Classrooms
Our smart classrooms are Air-conditioned, have comfortable seats for the children. Our teachers use computers, projectors and also the plain blackboard to teach the learners. Class sizes are small so that every child gets the required attention
Science Labs
We have well equipped and well designed science labs for Physics, Chemistry & Biology. Concepts taught in the classrooms are reinforced in the science labs
Computer Labs
Our ICT lab provides 1:1 computer facilities for each child. We have the latest hardware and licensed software required for students of all classes
Kids Play Area
Kids like to spend their energy in our bright and colourful play areas. We have a play area outside and one indoors specially for the kindergarden classes
Library
A well stocked library for children of all classes. There are library sessions during normal school hours where children are encouraged to sit and read in silence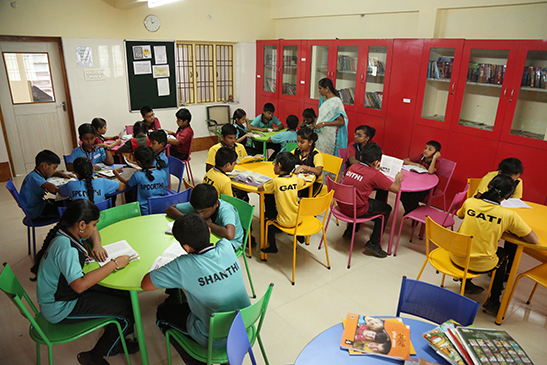 Maths Lab
Our Maths lab is a place where students can experiment and explore patterns and ideas. Students one can find a collection of games, puzzles, and other teaching and learning material. The maths lab provides an opportunity for the students to discover mathematics through doing.
Language Lab
In today's world, it is important to learn a foreign language other than English. Learning such foreign languages is enhanced through speaking and listening sessions which help improve the pronunciation, accent and understanding of the language.
Robotics
We impart Robotics training to our learners, which includes all the modern skills required in this field. Learners develop technology and realize their passion. The hands-on activities using technical kits improv ethe practical approach towards real world challenges and help students to develop problem solving skills and to think out-of-the-box.
Communicative English
This program is offered by Carnegie Mellon University, USA. It enables learners to meet the higher order in a global society. It helps provide a broader perspecive of worldly knowledge and aids learners in areas like public speaking.
VR & AR Based Learning
ImmergeLab is a pivotal tool that we use to enhance our teaching with 3D-models and immersive experiences and better learner's learning abilities of concepts and recall from photographic memory.  "Retention and Recall rate is at 80% from a single VR session, as opposed 20% without VR" – National Education Association of United States of America.
Technology Based Learning
We are constantly attempting to improve our learning and assessment methods. Towards this, we have introduced app based learnings and assessment, which is a favourite with the learners.
Indoor PET Area
An indoor physical education training room where learners can train and practice on indoor games like Table Tennis, Carrom, etc.
Playground
A school is not just about academics. Physical exercise is also very important for the body and the brain. We have a vast playground and a separate basketball ground where students spend their PT and Athletic classes. A new international level sports facility is now coming up and will be completed soon.
Extra Curricular Activites
Extra activities like Yoga, Classical Dance, Western Dance, Music, Chess, etc are held during normal school time. Apart from these activities, we also have out-of-school-hours activities for Athletics & Karate.
Conference Hall
An air-conditioned conference hall for all important meetings, functions, etc.
Parent's Portal
We use a school app which acts like a communication point between parents, teachers, school and students. Attendance, School circulars, notifications, homework, and exam assessments can be accessed via the app at the fingertips of the parents.
Flipped Classroom
We use the latest digital infrastructure to deploy latest pedagogical solutions which encourage our students to challenge themselves. Our "Sankara on cloud" is one such solution which provides a flipped classroom learning environment for our students.
Thinkerz Hub
We deploy modern technology to help our learners prepare for competitive exams like NEET, JEE, CSIR-NET, CA, etc. Learners get a smooth journey depending on their individual pace of learning.
Ecopoly
Our learners are encouraged to be environmentally conscious, and are graded on such activities that they engage in during the term. We strive to create the next generation of leaders who will do everything possible to preserve our nature.
 You can be rest assured that our school takes initiative in providing excellent facilities to develop the students. We strive to incorporate the latest technology, tools and pedagogical concepts to help our students challenge themselves and to learn better.